American Shield

Captain America Memorial Including Shield

Creator:

Uploaded:

22:10, 23rd Jul 2012

Last Updated:

18:51, 24th Jul 2012

Type:

Unit, Attachment

Category:

Model ID:

9mjsxk
American Shield
[1]
is a superhero shield
attachment
model
created by
member
Toti425
and first uploaded to the
Hive Workshop
on July 23rd, 2012. The model recieved a
user rating
of
5/5
and was approved by
Tarrasque
without receiving a
moderator rating
.
Model Texture
The model utilizes 1 in-game texture and 1 custom texture.
Custom
In-Game
Likeness/Inspiration
The model is the Warcraft III representation of the iconic shield and only weapon used by legendary superhero Captain America. It is paired with the Dranai Captain America model.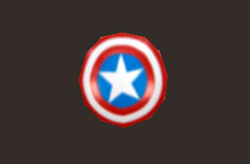 Ad blocker interference detected!
Wikia is a free-to-use site that makes money from advertising. We have a modified experience for viewers using ad blockers

Wikia is not accessible if you've made further modifications. Remove the custom ad blocker rule(s) and the page will load as expected.