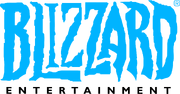 Blizzard Entertainment
(Often shortened to "Blizzard" or "Blizz") is the company responsible for the
Warcraft
,
Starcraft
and
Diablo
franchises. 
A Hive bot account called "Blizzard Entertainment", which is controlled by the admins of the site, is the name featured on all of the icon resources that have been made by Blizzard for other games, mostly World of Warcraft. If a member uploads an icon based on Blizzard work, containing small- or no change at all, the icon is transfered to the Blizzard Entertainment account.
Ad blocker interference detected!
Wikia is a free-to-use site that makes money from advertising. We have a modified experience for viewers using ad blockers

Wikia is not accessible if you've made further modifications. Remove the custom ad blocker rule(s) and the page will load as expected.