Druid Guide

Druid Guide Wading Through The Ashenvale Mist

Creator:

Uploaded:

16:26, 17th Jul 2012

Last Updated:

16:44, 29th Jul 2012

Type:

Hero

Category:

Night Elf

Model ID:

blvmgs
Druid Guide
is a
hero
night elf
model
created by
member
Hexus
and first uploaded to the
Hive Workshop
on July 17th, 2012. The model recieved a
user rating
of
5/5
and a
mod rating
of
3/5
from
HappyTauren
.
Model Texture
The model utilizes 21 in-game textures.
Likeness/Inspiration
The model is an original idea, and generic in style. The creator remarked that the Druid Guide would lead his fellow elves through the dark and mysterious parts of Ashenvale.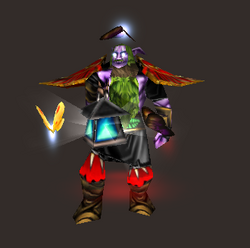 Ad blocker interference detected!
Wikia is a free-to-use site that makes money from advertising. We have a modified experience for viewers using ad blockers

Wikia is not accessible if you've made further modifications. Remove the custom ad blocker rule(s) and the page will load as expected.