Hera_

The Untouchable Queen

User rank:

Reputation:

Join Date:

10-20-2012

Total Posts:

1300+
Hera_
(Formerly known as "juno") is a 16-year-old 
Hive
member
from Cebu City, Philippines, known for wandering around several of the
forums
and helping out in the
World Editor Help Zone
, and for providing helpful feedback to
modders
of the site. He is an active member of
The Pinoy Resources Society
, and also a formerly well-known 
member of Kaelicious, the Role Playing social group, before his username was changed on the site from "juno" to "Hera_", roleplaying as a small cute kitten and now plans to roleplay as a girl from the anime Chobits. Apart from Kaelicious and PRS, Hera_ is a member of 5 social groups. He is the creator of the three popular projects; Hive Arena , Heroes Lore : Zero  and In Memoriam and has also released a template for an AOS map and a 
minigame called Marathon of DOOM . Sadly, Hive Arena and the Heroes Lore : Zero thread has been closed due to the lack of activity in both of the projects. However, Hera_ is planning to restart Heroes Lore but with a new lore and much improved terrain, though it is still being planned out and a new thread hasn't been made yet, he has 
disposed of the info that the new version of the game is named Heroes Lore : Desolation . 
Hera_'s favourite Warcraft race is the Arakkoa, and 
favourite organization is the Kirin Tor. He likes reading books, drawing, watching anime, and hang out with his friends. Additionally, Hera_ is also known in several forums as The Rising Demon or Rising Demon due to some cases in the past that he needed to hide his identity to some forum. He is also an administrator and is one of the site founder of another modding community named The WarCraft 3 Modding Realm or simply .w3m . Hera_, is also a Community and Chat moderator in yet another modding site namely Blizzard Modding Info .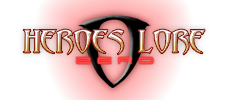 Ad blocker interference detected!
Wikia is a free-to-use site that makes money from advertising. We have a modified experience for viewers using ad blockers

Wikia is not accessible if you've made further modifications. Remove the custom ad blocker rule(s) and the page will load as expected.