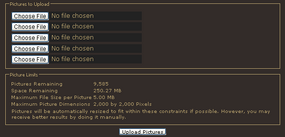 Pictures
 can be
uploaded
by any logged in
member
on the
Hive Workshop
, by pressing the

-button in one of their personal user
albums
. Pictures can additionally be given long descriptions, and reveals the
picture URL
and
BB Code
. It can also be uploaded to any of the
social groups
that the member is part of, or as
attached thumbnails
of
posts
.
A few limits are revealed to members when they are in the process of uploading pictures: A member can at max upload 10,000 pictures, or fill out a specific amount of space - it also appears exactly how many pictures, and how much space remains for the uploading user to use. A picture can at its maximum have a file size of 5MB, and cannot be larger than 2000x2000 pixels. The Hive will automatically resize the images to fit these constraints if possible, but the member will most likely receive better results if doing it manually.
Ad blocker interference detected!
Wikia is a free-to-use site that makes money from advertising. We have a modified experience for viewers using ad blockers

Wikia is not accessible if you've made further modifications. Remove the custom ad blocker rule(s) and the page will load as expected.